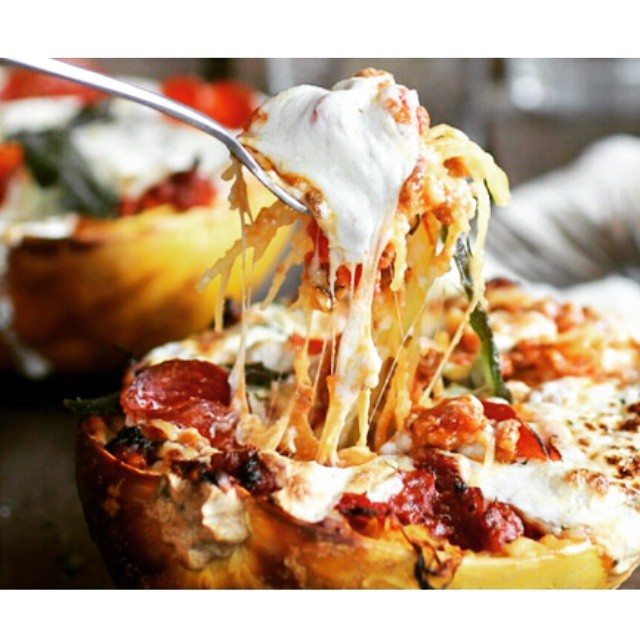 When I told my husband I was making spaghetti squash,  he looked at me with a bit of confusion. We all know spaghetti AND squash,  but the concept of them together as one is quite unfamiliar to most. Spaghetti squash is an amazing vegetable, it has the appearance and taste of squash but when cooked, the flesh turns into strands that are similar to spaghetti. This transformation allows you to use this versatile vegetable in some very unconventional ways. Here is a simple preparation to unlock the magic of spaghetti squash and some of flavorful recipes to make this vegetable the main dish in your house.




Preheat your oven to 350 degrees. Slice the squash in halve lengthwise and remove all of the seeds. Note: Spaghetti squash can be very difficult to cut, so you will need to use some extra muscle when slicing.
Cover a baking sheet in aluminum foil and coat with non-stick cooking spray. Place the squash in the pan flesh side down to bake for 35-40 minutes.
When done, remove from the oven and let cool before handling. Using a fork, remove the "noodles" from the skin by running your fork back and forth along the flesh. You can now substitute your squash for pasta in your recipe.
9 Mouthwatering Spaghetti Squash Recipes
Originally posting on – Greatist.com
These sausage-stuffed boats are the perfect meal for fall: warm, filling, and oh-so cheesy. They also look super fancy but are easy to prepare, making it the ideal recipe for a dinner party (or date night with yourself). To lighten it up, substitute roasted veggies for the spicy sausage.

When we said spaghetti squash was versatile, we meant it. Not only does the fiber-rich veggie blend well with Italian flavors, it's also a great vehicle for your favorite Mexican ingredients! This recipe is loaded with black beans, corn, onions, peppers, and spices, and topped with cheese, cilantro, and whatever hot sauce fits your fancy. Sombrero (sadly) not included.
Whoever decided that combining spinach with cheese was a genius way to encourage people to eat more greens, kudos to you. And though spinach artichoke dip may not have the healthiest reputation, it's easy to modify and health-ify. Simply cut back (ever-so-slightly) on cheese, up the amount of veggies, serve in a squash, and trade in those chips for a fork.

It's time to think outside the tortilla. Sure, enchiladas are great as-is: chicken and veggies wrapped in a corn tortilla blanket and topped with sauce galore. But they can also be better. This recipe uses squash as the base, and is filled with chicken breast, cheese, black beans, and traditional enchilada sauce. For a lower-carb version, use spinach in place of the corn and black beans.
When craving a heavy, creamy dish like risotto, turn to this recipe. Though it's low-calorie, the combination of meaty mushrooms and Parmesan taste anything but. Plus, the ingredients are cheap and easy to find! Home-cooked dinners just got that much easier.
This garden-inspired meal tastes like a pizza but comes without the grease and heavy crust. Filled with spinach, diced tomato, and goat cheese, and topped with herbs and seeds, it's everything about summer flavors you love but perfect for a crisp autumn lunch or dinner.

Photo: Shared Appetite
7. Thai Peanut Spaghetti Squash
We've covered Italian and Mexican bases, but what about Thai? Full of peanut sauces, ginger, lime, and various vinegars, it's hard to beat the fun flavors of Asian cuisine. And though it can be slightly difficult to acquire all the necessary ingredients, it's totally worth it. Trust us, make this veggie-filled twist on pad Thai, have a second serving, and thank us later.
Greek salad is a great option for when you're looking for something light yet flavorful. But what about those times you want something light, flavorful, and filling? While that may seem like a recipe pipe dream, it isn't! This salad bowl substitutes squash for romaine, creating a hearty dish that's still low-calorie.
Gluten-free, vegetarian…this recipe meets almost all dietary needs (and can be adjusted to those it doesn't). Plus it's super healthy and delicious. Packed with garlic, zucchini, squash, and Parmesan (use a dairy-free substitute to make vegan), and tossed with olive oil, this meal makes a great side dish or light lunch. For a protein boost, add tofu or chicken.