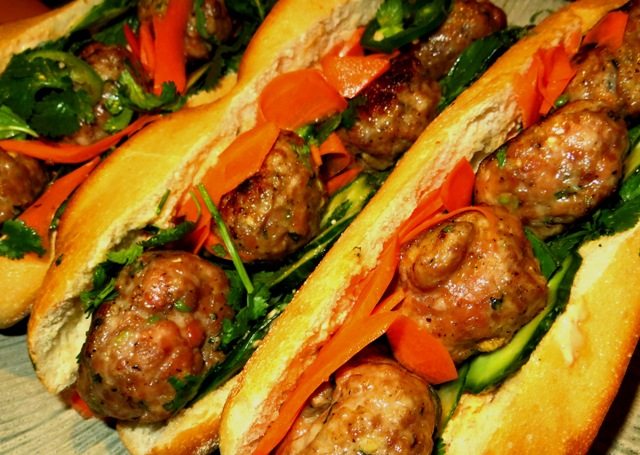 Banh Mi Vietnamese Pork Sandwiches are a delicious way to mix up you ordinary sandwich routine. These flavorful sandwiches are perfect for lunch or dinner. They combine juicy meatballs with a spicy mayo, plus fresh herbs and tangy pickled carrots. These flavor combinations will excite all of your taste buds. This recipe does have quite a few ingredients, but is very easy to make. You may have to pick up some items from your local Asian grocer /Asian isle at your grocery store. If you need a reference, check out my Asian Ingredients post for an some helpful tips.

Combine vinegar and sugar in medium bowl. Slice the carrots and place in the bowl, coat with vinegar and set aside for an hour or more.
Cover a large baking sheet with aluminum foil and coat with non stick cooking spray.

In a large bowl combine all of the meatball ingredients with the pork, except for the sesame oil which is reserved for cooking. Using your hands, mix everything together so it is well incorporated. Spoon the mixture into your hands using a tablespoon to create meatballs that are about 1" thick and place on the pan.

Preheat your oven to 325 degrees. Heat a large skillet to medium high, add sesame oil, and place half of meatballs in pan for 2-3 mins to brown on both sides. Place the meatballs back on the baking pan and repeat with the remaining balls.

Bake in the oven for 20 mins to cook, flipping them after 10 mins. When they are done, remove from the pan and set aside to start constructing your sandwiches.
Toast your bread in the oven for about 5 minutes to make soft. Add sriracha to the mayo to create your spicy mayonnaise, adding more spice depending on your taste. Spread on a layer of the spicy mayo on both sides of the bun.

Add some slices of cucumber, jalapeno, a tablespoon of the pickled carrots. Garnish with some leaves of mint, basil and cilantro and then add 3-4 meatballs (depending on the size of your bun) and enjoy!
You can pickle your carrots days in advance and store them in the refrigerator. If you are looking for a side dish for your sandwiches, you can add your herbs and any leftover carrots with  some lettuce to create flavorful side salad.