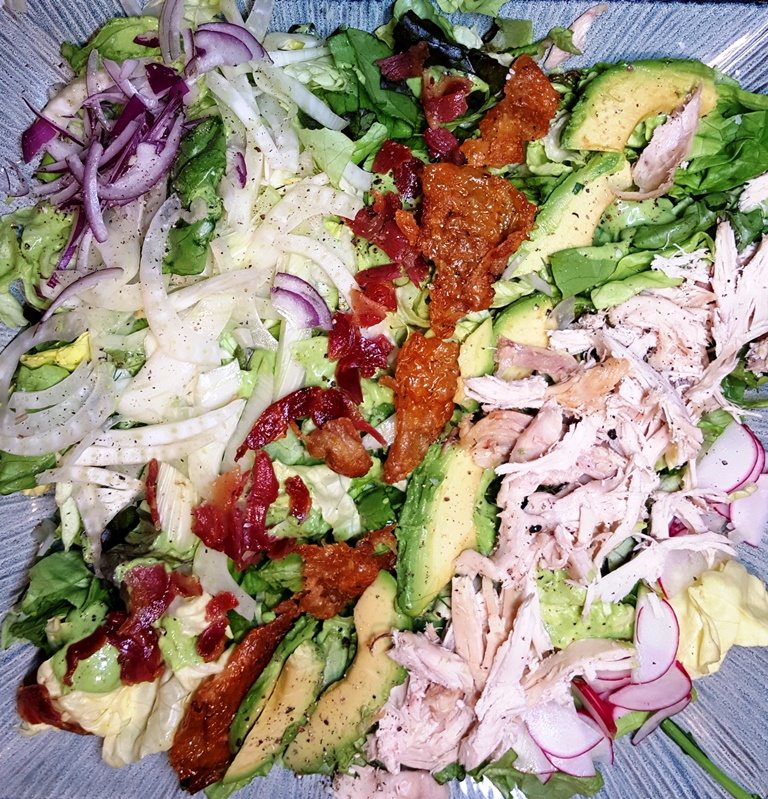 I am a salad fanatic, not because they are healthy, but because they can pack a lot of flavor and texture into one bite. This cannot be more true than with my Chicken Cobb Salad and Green Goddess Dressing. I have combined the smooth avocado texture with crispy pancetta and even took it one step further by crisping my chicken skin to add even more flavor. This recipe includes a herb packed homemade Green Goddess dressing with a tangy finish to add that extra kick this salad needs.
If you want to save time with this recipe pick up a whole cooked rotisserie chicken from your local grocery store, but make sure it is fresh and well seasoned – no one likes dry bland chicken. Check out my recipe for Chicken Thighs with Crispy Skin if you want to use those instead. I recommend spending the time to make this dressing, it really compliments the salad and it is a nice change from your typical Ranch and Blue Cheese. This recipe is very simple but it will definitely elevate your salad game!




Green Goddess Salad Dressing
Combine all the ingredients into a food processor or blender (I used my smoothie cup with blade attachment) and mix on high until smooth. Taste and adjust seasoning if needed.
If you are using a store bought rotisserie chicken, remove all of the skin and set aside, then break the chicken up into pieces by pulling it off the bone. If you are using chicken breast, season with salt and pepper and cook in skillet over medium heat with the skin on, when done remove the skin and set aside.

Place the pancetta or bacon into a pan and cook for about 3-4 mins then flip. Remove from the pan when it is crisp and place on paper towel to drain. In the same pan (with pancetta drippings) over medium high heat, add the chicken skin to pan and cook for about 2 mins on each side until it becomes crispy. Remove from the pan and set aside.

Chop the lettuce mixture and place in bowl or serving plate, then top with half of your dressing. Add your salad toppings: radish, chicken, avocado, chicken skin, pancetta, fennel and red onion and drizzle with remaining dressing. Season with salt and pepper and you are ready to serve.