Prosciutto, salami, and fresh mozzarella are some of my favorite Italian ingredients, so it's no wonder that every time I go to a sub shop, the Italian sandwich is the only thing I order. I watch as the sandwich artist rolls my monster hero in the paper, and I dream of sinking my teeth into those delicious ingredients. However, the health-conscious side of me knows that all of that meat, cheese, mayo, and bread isn't very good for me, so I often opt for this alternative, which combines the flavors of an Italian sub into a hearty and zesty salad. Craving those Italian flavors but trying to cut down on your carbs? Put down the sandwich and try my zesty Italian chopped salad instead.
Ingredients to Chop
One of the biggest reasons I love chopped salads is because of the variety of ingredients you can add to them. There is no right and wrong. Keep in mind, if you are making an Italian chopped salad I'd limit the ingredients to those commonly found in Italian sandwiches, such as Italian meats, cheese, specialty lettuce, and items that pair well with those ingredients. When thinking about your salad, try to use a good combination of items that are crunchy, creamy, savory, and even a little spicy. Finding that balance will help make your salad more flavorful and fun to eat.


The Red Wine Vinaigrette Dressing
I have a habit of always making my salad dressings from scratch, from Ranch to Caesar to vinaigrette, and I kept the tradition alive with this red wine vinaigrette. Making your own salad dressing is not only easy to do, it also allows you to cut out any additives that the store-bought variety contains. With an Italian chopped salad you want to keep your dressing very zesty. The vinegar and oregano really bring out the flavors and complement the ingredients perfectly.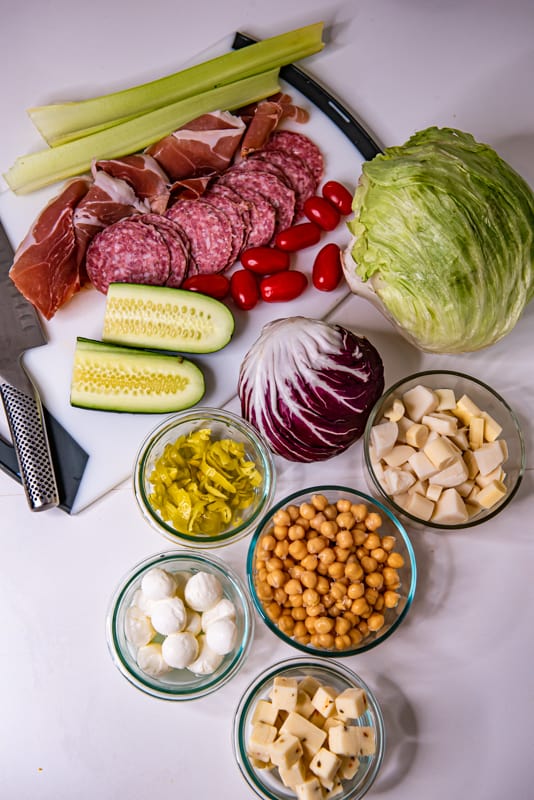 Zesty Italian Chopped Salad
Ingredients
Salad
1

cup

provolone

cubed

1

cup

fresh mozzarella

balls or cubed

1

can

chickpeas

drained and rinsed

1

cup

pepperoncinis

(banana peppers)

1

can

heart of palm

1/2

head

radicchio

1

head

iceberg lettuce

1/4

lb

salami

sliced

1/4

lb

prosciutto

sliced

1

cup

cherry tomatoes

cut in half

1

cup

English cucumber

diced

2

stalks

celery

sliced
Salad Dresssing
1/2

cup

extra virgin olive oil

3

Tbsp

red wine vinegar

1

Tbsp

honey

1

Tbsp

lemon juice

1

tsp

dried oregano

1

tsp

dried basil

dash of salt

dash of garlic powder
Instructions
Combine iceberg lettuce and radicchio into a serving bowl. Add meats and cheeses and toss.

Add pepperoncini peppers, heart of palm, chickpeas, cherry tomatoes, cucumbers, and celery to salad. Toss with other ingredients.

To make the dressing, combine red wine vinegar, honey, lemon juice, basil, oregano, garlic powder, and salt in a small mixing bowl. Stir ingredients well. Slowly whisk in olive oil until ingredients are thoroughly mixed.

Pour red wine vinaigrette over salad, toss, and enjoy!
Sound simple? It is–but don't let that fool you. This zesty Italian chopped salad is perfect for busy women like myself who relish a simple, healthy meal without sacrificing flavor. Give it a try, and see if you don't leave the table thinking, "Delizioso!"
Stay fabulous,