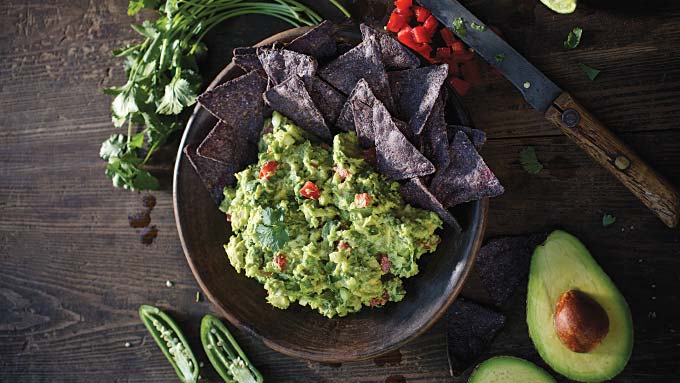 Guacamole is my favorite dip by far! I love to make it fresh in my molcajete (Mexican mortar and pestle). I used to dread having any leftover because there was no great way to save it without it turning brown and let's be honest, no one likes brown guac! Check out my recipe and tips to keep guacamole from turning brown. 
My fabulous Guacamole recipe is at the bottom of this post!
The Best way to Keep Guacamole Green
You can try covering it with plastic, adding lemon juice, and several other techniques, but the truth is, it will still get brown! The one solution I have found to keep guacamole from turning brown is to add some water. It may sound off the wall, but by adding a little water, you'll now be able to keep your guacamole for up to three days without it turning on you.
1. Put the guacamole in a bowl that has a tight-fitting lid and pack the tightly, pressing out any air bubbles

2. Dribble in about 1/2 inch of lukewarm water, making sure the water covers the surface of the guacamole. I like to fill a measuring cup and pour it gently down the sides
3. Put on the lid and refrigerate for up to 3 days for green guac.

4. When ready to eat, take off the lid and gently pour out the water
5. Stir up the guacamole to incorporate any extra moisture
It's seriously that easy and I am sure you will be amazed by the results. Do you have any other tips to keep guacamole from turning brown? Please share them in the comment section below.
Halve your avocados and place them in your molcajete. I love using this type of bowl because it allows me to really crush the ingredients for nice smooth yet chunky texture

I add all of my ingredients, except for the salt and lime, to the bowl. Using the mortar, mix everything together

Taste to check your heat level, add more jalapenos if needed

Squeeze the lime over your guacamole and sprinkle about 1/2 teaspoon to a full teaspoon of salt depending on your taste
Make sure your seasoning is well incorporated and serve with your favorite tortilla chips
What are some of your favorite dishes for a  Mexican Fiesta?